The Traveling Blondie phrase is in the URL of a blog dreamt up by true to form Nichole, from small town USA. Her passion is travelling to different places around the world and writing up her experiences so as to help other travellers following in her footsteps.  Nichole's aim is to supply no nonsense travel information in the form of her cool blog which helps readers make informed choices without trawling through Trip Advisor, Expedia, Booking dot Com etc and getting confused or overwhelmed with information. And above all it is unbiased, honest and more importantly- not promoted for financial gain.
Perhaps understandably, her world travel blog's menu covers Oceania and included in the drop down menu is  NEW ZEALAND: CHRISTCHURCH AND SUMNER BEACH-THE SOUTH ISLAND'S HIDDEN GEM. Even Le Petit Hotel gets a mention,  being described as "an adorable bed and breakfast with great customer service" and that "it's a 2-minute walk to the beach".
Nichole has collated an amazing number of beautiful images of her travels around the South Island including some taken on Sumner Beach, and her suggested 10 day itinerary would be one of the best I've seen yet.  I particularly like the concise information that she provides, together with relevant photos of exciting and interesting places and activities no one should leave out of their brief look at the South Island of New Zealand.
Sumner Beach, Christchurch, gets singled out for a special mention by Nichole as the South Island's hidden gem – quaint, quiet and perfect.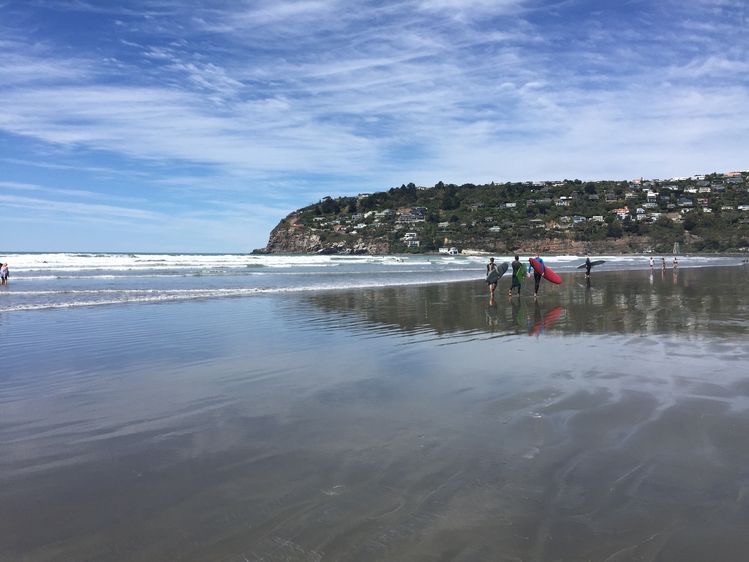 Congratulations Nichole, The Traveling Blondie,  on a blog well done! We appreciate your kind words about Sumner Beach, Christchurch as well as the rest of the South Island places that you have mentioned .
I will be following your travels.
Safe , happy voyages where ever you go.