Take a tour & discover
Take a tour and be convinced. This is Sumner Accommodation -French Style.  A private hotel, with a big difference.  Friendly – personalised service is the norm for all guests; The discrete, private, comfortable, French atmosphere that this bed and breakfast hotel imparts , combined with its renown fresh- baked croissants for breakfast, provide a distinctive starting point for its guests each morning.
During breakfast you can converse with Martine your co-host, about all things French, and even in French.  French language lessons are free on board when you stay at Le Petit Hotel !
Martine is widely travelled in her home country and loves to impart the joy of all things Francaise to interested guests.
Bruce, your other co-host, accompanied by the hotel's Scottish Terrier,  is always available to advise on things to do in Sumner and give directions to Sumner's expansive collection of restaurants and cafe's. Relaxing on the hotel terrace, you might spot the hotel's PV solar power array and Bruce is someone you can talk to about this energy technology.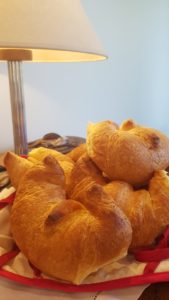 Guests can relax in Sumner and soak up the coastal/beach resort atmosphere, whatever the season, Summer or Winter. They can also rest easy in the knowledge that this hotel is high on safety and security, fully fire safety compliant, and with the support of on-site resident managers.
Take a tour for just a very quick look at Sumner's French accommodation option:
Zoom in or out with the controls at the left of the map, or "grab" and shift the contents by left-clicking, holding the mouse, and dragging the map.
Enjoy!