French Inspired  Accommodation
To explain French Inspired , in France, what the English would call a bed & breakfast establishment, is better known as a chambre d'hotel. In general terms, this type of accommodation is created from part of the proprietor's house, with certain areas being open to and shared with incoming guests, i.e. the breakfast area , the general lounge area plus an outside terrace area. (Kiwi B & B's are similar in some respects). In addition to these private home accommodation places, France is also generously served by numerous small hotels, both private or consortium owned, that are not part of the more well know Chain Hotels.
French branded hotels now appear all around the world. For an example, in Shanghai, China, several Campanile Hotels are in the city, all extremely well managed by the Chinese operators,and providing breakfasts decidedly French Inspired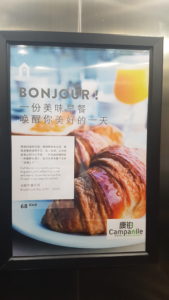 Crumptious Croissants inviting Campanile Hotel guests to a petit dejeuner.
In the case of Le Petit Hotel, Sumner, the privately owned property  is genuinely French inspired, but with perhaps  a lesser number of bedrooms than you would normally expect in a boutique hotel. However the small number of rooms adds very much to the personal touch, where the on-site management team work hard to make each & every guest feel special, unique,  and not just a booking number.
All the rooms in Le Petit Hotel have their own individual style, and use a few discrete key accessories to channel the chic French style. A restful colour palette, of soft hues, features throughout the building while "restrained" French chandeliers provide lighting in some rooms.
Outside patio or terrace dining for all meals, is extremely common in France, whether it be in a restaurant or café setting, or in the courtyard of a small independent, village hotel. Le Petit Hotel also offers guests the option (weather permitting) of having their petit dejeuner( breakfast) in a bistro setting on the terrace adjacent to the hotel's lounge.
Privacy is an essential key element of the accommodation on offer, with management always available but never intrusive.
Externally, the French inspired Hotel is easily identifiable from a street view, with its distinctive orange Provencale roof tiles, and its  green wooden shutters. There is also the presence of the traditional French hanging lanterns that grace the hotel's Allee pietonniere ( alleyway) , which provides guests with access to parking behind the hotel.