Diabetic induced cataracts can happen overnight in some dogs.
Our previous blog page began a story about the unknown journey of our beloved Scottish Terrier – Kara,  who became stricken with blindness caused by large white cataracts.  I tried to imagine what Kara was thinking , now that she could no longer see, and it wasn't hard for Martine & I to make the decision : we had to try and help her. The omens for success were seen to be good.  Once Kara's insulin levels had been corrected, following her diabetes diagnosis, she had responded quickly & regained her lost weight, and notwithstanding that she was now fully blind, she showed lots of determination to try and cope. We also knew from experience that Kara had responded well in the past to antibiotics, antibiotics being a critical factor in the success or otherwise of dog eye operations.
And so it was that we delivered Kara into the kind hands of Dr Steve Heap at the Veterinary Practice of McMaster & Heap, on Friday 6th March 2020. It was a long day…I mowed lawns and tried not to worry about our dear "girl" . Later that afternoon, Steve phoned to say that all went relatively well,  one eye was easier to do than the other, but that Kara was out of the anesthesia and responding well…so we then knew that the first hurdle had been crossed.
Later that evening both Martine and I travelled across the city to the veterinary clinic where our reunion with her was one of happiness. Even in her post operation condition, we could detect that she was feeling ok and glad to be back in the company of familar voices. But we had yet to determine the outcome of the operation.
However, as I  write this note – Sunday the 8th, and barely 48 hours since her diabetic induced cataracts were operated on, Kara is beginning to realize that she is no longer totally blind.  Some of her sight is definitely returning and a good indication  this morning came when I suggested to her that we go for a ride in the buggy( a 3 wheeler push chair).  She made a fast walk towards the door leading to the patio where the buggy is stored, and was more than happy to have a ride around the neighbourhood. Our first real concrete sign that her confidence is returning & she is happy, despite her dad religiously placing a variety of drops into her eyes every 4 hours .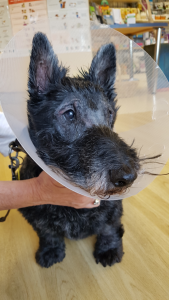 Tomorrow Kara has her 1st Post Operation check.
P.S. Kara is progressing well so far.