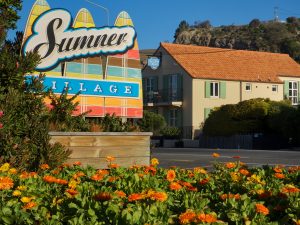 The Google Map presented below is centred on the Christchurch seaside suburb of Sumner. Christchurch's premier sea, sand & surf destination for locals and travellers alike. About 20min from central Christchurch by car, the Hotel – Le Petit – is blue tagged on the map. It can also be easily reach via the Metro bus serviced Purple Line, with a stop just opposite the bed & breakfast accommodation.
Enter 16 Marriner Street on your Google map and you will be directed to arrive outside the distinctive 2 story building, easily recognisable with its orange French roofing tiles and green painted wooden french door shutters.
Providing accommodation with 6 en-suite rooms, guests are treated to a served complimentary breakfast. Rooms are available subject to prior bookings.
The French Consulate is co-located at 16 Marriner Street, Sumner, Christchurch 8081. To make an appointment, please telephone 03 326 66 76.